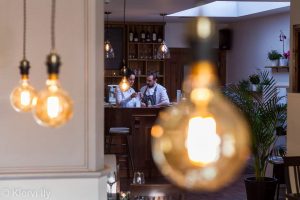 Oxtail is a cosy & informal neighbourhood eatery located upstairs @ the Shebeen pub in Balla and owned by Irish/French duo Patrick McEllin & Rebecca Miton.
Working in tandem with the seasons, Chef Patrick McEllin creates an ever-changing menu and uses the very best produce, sourced locally wherever possible.
At Oxtail, we support local farmers and artisan food producers and our menu reflect this. Fresh ingredients, classical menu with a contemporary twist, warm and inviting atmosphere are what describe us best.
More than a restaurant, Oxtail is a second home, a place of gathering where the community, families, neighbours, friends and strangers can meet to share a special occasion or a casual meal in a warm and friendly environment.
Balla native, Head Chef Patrick McEllin started his cooking career in the renowned Ballynahinch Castle at the age of 17, while studying professional cookery in the GMIT. Patrick has worked all around the world in prestigious kitchens, from Michelin star Bibendum, in London to renowned Irish Chef Padraic Kielty's restaurants in Sydney, and in recent years, in Galway's top establishments. After his travels, Patrick decided to go back to his roots and open Oxtail Kitchen with his French partner, front of house manager Rebecca.
Cognac native, Rebecca studied hospitality in La Rochelle, France. She began her career 15 years ago and has worked in various fine dining establishments over the years. After completing work placements in 5* Plaza Hotel in Brussels & 4* Hilton Paris, she decided to move to Ireland and work in renowned hotels & restaurants such as The Nuremore and Ballynahinch Castle, where she met Patrick.